What ho Swipesters!
Sad news reaches us here at Swipe Towers of the departure of veteran BBC newscaster Philip Hayton after an alleged bust up with Swipe Show favourite, Kate Silverton. Hayton's departure is expected to lead to a serious investigation by BBC bigwigs of supposedly falling standards in the ranks of the Corporation's presenters. "It's one thing working with a knockout bird with a lovely smile and delectably squeezable baps", said Hayton who has worked at the BBC, man and boy, for 37 years, "but when they start asking viewers to "look at the old score board" and tell them they "get nothing for a pear on this show", you start to seriously question the journalistic standards being brought to bear on what is, let's face it, a job that requires a fair degree of rigour and analytical prowess".
Kate Silverton has denied aiming a custard pie at Hayton in the middle of a serious bulletin on the Asian tsunami, claiming "Oh no I didn't". When it was put to her that perhaps she had indeed been behind the pie lobbing incident the former bunny girl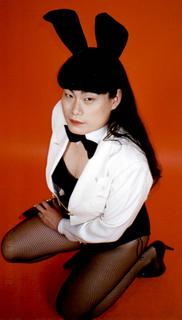 and associate of TV wunderkind Matthew Wright is alleged to have retorted, "he's behind you" and stuck her tongue out repeatedly whilst pulling up her skirt and tripping over her over-sized comic boots.
Details of the pair's latest falling out are sketchy, but it is believed that Silverton,
whose own recent travails
have been well documented here, swooped down on Hayton in a nocturnal raid, carrying him off to her nest in a nearby barn where she is thought to have repeatedly pecked him, tearing away the flesh from his carcass leaving nothing behind but a horrible mess of skin and bone.
In an unrelated report, the BBC has revealed that it will be replacing its early morning news bulletins with a relaunched Generation game to be hosted by Dermot Murnaghan and Natasha Kaplinsky.
Love on y'all,
Bob